'; // PRINT CALENDAR testWindow.document.write(cal); } var testWindow; var formType; var fName; function openCalendar(formName,type) { formType=type; fName=formName; testWindow = window.open('','dates','width=360,height=300,resizable=1,status=1,menubar=0,location=0'); loadCalendar(document.forms[fName].elements[formType+'Month'].selectedIndex); } //-->

| | | |
| --- | --- | --- |
| | https://aucasinosonline.com/blackjack/ | |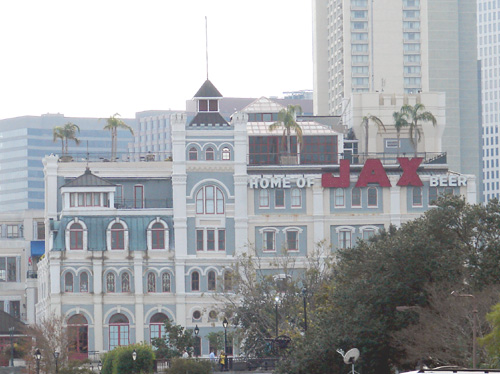 The Jazz & Heritage Festival has been a growing event each year. Setting record crowds the past few years. This two weekend festival has drawn the likes of many top entertainers, such as Paul Simon,Santana, B.B. King, and many more. This event always seems to out do itself every year. The festival always falls on the last weekend in April and the first weekend in May. It may be springtime, but do not count on all to comfortable temperatures. While average highs are only in the lower 80's, the combination between the large crowds and the lack of shade make for a surprisingly hot time. Another great thing about this festival is it gives you an opportuinity to sample just about every local cuisine you can think of. (Tip: Get your Crawfish Bread & Crawfish Monica early in the day. You don't want to waste time standing in line for these great items, when you could be out dancing to great artist). Remember to bring comfortable clothes and shoes and sunscreen and hat to enjoy the festival to its fullest.
Happy Jazz Fest!!!! 2007 Pictures now online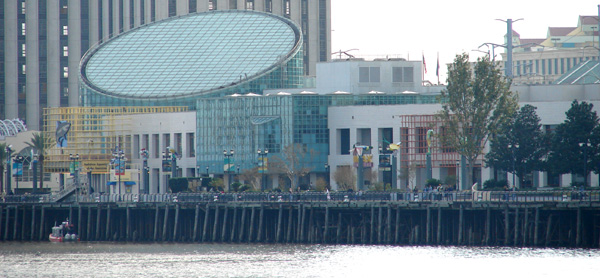 NEW ORLEANS Southern Decadence FESTIVAL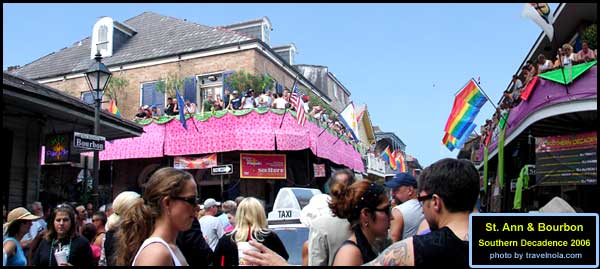 Southern Decadence started as a simple going-away party. As a top gay Labor Day Weekend destination, it has evolved into one of our world's major annual events. One of the largest annual celebrations in New Orleans, it has become known as the "New Orleans Gay Mardi Gras." People begin to arrive on the Wednesday before Labor Day, and generally don't even think about stopping or going home until the following Tuesday. With over 100,000 gay, lesbian, bisexual and transgender participants, the economic impact on the city was estimated to be in excess of $95 million. The city has recognized its importance with an Official Proclamation to welcome the event.
The corner of Bourbon and St. Ann Streets is generally considered to be the epicenter of Gay New Orleans, and even more so during the Southern Decadence festival weekend. At that intersection is the largest gay nightclub, The Bourbon Pub video bar and The Parade dance club, which is home to the hottest dancers in town. Across the street is Hit Parade Gift and Clothing store. Most of the city's main gay attractions are located within a few blocks of this intersection.

Most street party activities take place in the immediate area of the French Quarter, and the dance parties are in the clubs. And since the gay bars never close, there is something happening around the clock. Some of the nation's best DJs work the crowds into a frenzy.
Southern Decadence Home Page
Pictures of 2007 Southern Decadence in New Orleans
Southern Decadence in New Orleans by Harriet Cross 2007
2006 SOUTHERN DECADENCE PICTURES
DID YOU KNOW
Louisiana was named in honor of French King Louis XIV. President Thomas Jefferson negotiated with Napoleon for the territory, and took control with the Louisiana Purchase in 1803. The state was admitted to the Union as the 18th state on April 30, 1812.